En inglés
FrameBlock, a patented idea by MilanoBike – an Italian custom bike studio -, is the first bike with the anti-theft system directly integrated into the frame. The theft prevention mechanism behind it is so simple and so powerful at the same time, that one wonders why nobody thought of it before: it includes directly into the frame two steel cables and a lock which can be used as a normal bike chain, while constituting a fundamental part of the bike's body. As a consequence:
bike theft is strongly disincentivized
it is no longer necessary to carry around an heavy locker
you can get attached to your bike with no fear of losing it!
FrameBlock's team, led by Matteo Diego Caldiroli, the inventor of FrameBlock and MilanoBike's founder, has recently launched a crowdfunding campaign on Kickstarter to raise the funds necessary to move on to production and start working on future developments. Should the target be met, FrameBlock would enter the market and life for bikes thieves would become much tougher!
In case FrameBlock's story should interest you and you would like to share it with your readers, I would be glad to send additional material to facilitate the writing process and, if needed, also to organize an interview with Matteo Diego Caldiroli. In the meantime I invite you to visit our Kickstarter page.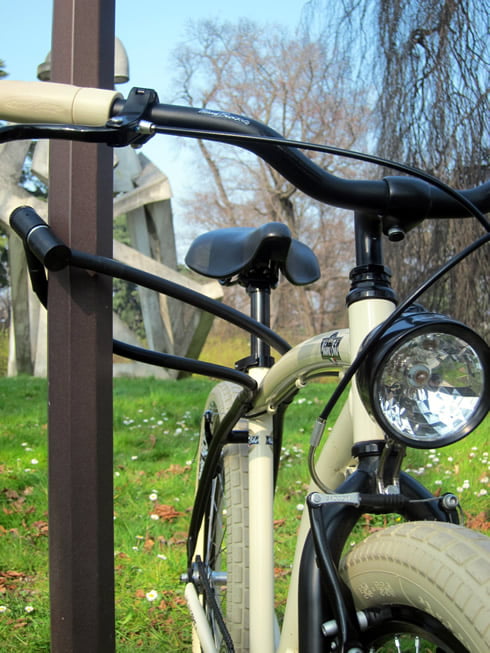 En italiano
Il furto di bici è uno dei crimini più comuni al mondo. Ottenere delle statistiche accurate, che indichino la gravità del problema è praticamente impossibile, in quanto si ritiene che più della metà delle vittime di tale furto non sporga denuncia alla polizia. Tuttavia, se ci provassimo a domandare quante volte noi o i nostri familiari siamo stati vittime di un furto di bicicletta, la risposta probabilmente ci farebbe fare un piccolo balzo sulla sedia. Specialmente se si vive in città.
Eppure quando succede, il furto di bici è in grado di rovinarti la giornata, di farti innervosire ed arrivare in ritardo agli appuntamenti. Qualcuno probabilmente, che ci ha già fatto il callo, non si sconvolge ormai più di tanto e chinandosi a raccogliere quello che rimane della catena, si dispiace solo del fatto che si stava affezionando alla bicicletta.
Da oggi però, i ladri di biciclette sorrideranno un po' meno e ci si potrà affezionare alla propria bici, senza avere il timore di perderla. Arriva infatti FrameBlock, la prima bicicletta con il sistema anti-furto integrato. FrameBlock, un brevetto dell'azienda artigianale milanese MilanoBike, è una bicicletta dotata di due cavi metallici flessibili ed un lucchetto integrati direttamente nel telaio, che fungono da normale catena. Tuttavia, il fatto che siano parte integrante del corpo della bici è ciò che rende FrameBlock unica. "Nel momento in cui un ladro volesse rubare la bici dovrebbe tagliare la catena, danneggiando così irrimediabilmente la bici, che perderebbe molto di valore. E siccome lo scopo del furto di solito è quello di rivenderla, in questo modo si disincentiva fortemente l'atto", spiega Matteo Diego Caldiroli, l'inventore di FrameBlock. Qualora il ladro provasse a rimuovere la parte danneggiata, romperebbe la giuntura che tiene insieme il telaio, rendendo così impossibile l'uso della bici. L'unico modo per riparare il telaio danneggiato è sostituirlo, restituendo la bici a MilanoBike con la chiave del lucchetto, il relativo codice di serie consegnato all'acquisto e una copia della denuncia del furto. Il meccanismo è talmente sicuro che in Italia alcune assicurazioni si sono offerte per assicurarla per soli €25 l'anno.
Matteo ed il suo team stanno attualmente portando avanti una campagna di crowdfunding su Kickstarter il cui obbiettivo è quello di raccogliere $ 30.000 necessari per avviare la produzione di FrameBlock. Con un contributo di $457 è già possibile prenotare FrameBlock a un prezzo speciale e farsela recapitare a casa propria non appena pronta, divenenedo così tra i primi ciclisti in sella a FrameBlock. "Credo che FrameBlock aiuti a risolvere un problema molto comune tra la gente, quello del furto delle bici, e proprio dalla gente mi piacerebbe potesse prendere vita. Per questo abbiamo deciso di lanciare una campagna di crowdfunding", commenta Matteo.
Se la campagna avrà successo, Matteo avvierà la produzione di FrameBlock, con l'intento di esportarla in vari paesi intorno al mondo ed instaurare un dialogo con vari produttori di biciclette, che non possono più ignorare questa tematica. Ai ladri di biciclette, forse, allora non rimarrà altro che pensare di cambiare mestiere.