jajajaaaaaa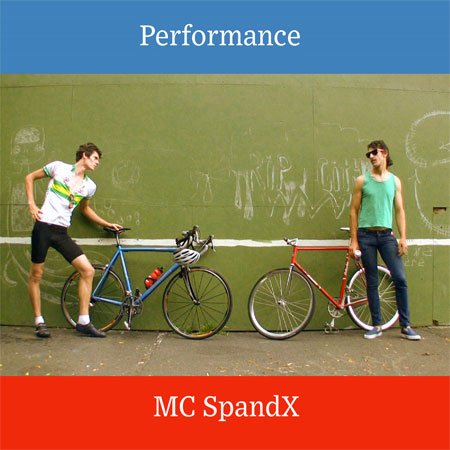 Here's a fun jab at fixed-gear riders from a somewhat snobby, but funny, road-bike aficionado.
I know you don't understand…
How could I spend 5 grand on a bike?
You think that's absurd,
Well there's only 1 answer,
And there's only 1 word,
It's Performance!
I don't think you understand,
Riding with fitness is more than track stands
I got a word of advice for all you hipsters
Go and get yourself some brakes and some shifters
I drop 2 g's on my Dura-ace
Cat one race and now I'm setting the pace
My brakes are tuned-up
I can stop on the dime
When I'm in the pack I'm always holding my line
My bike is so light and dialed in just right
I got my seat raised to just the right height
So I can pedal with efficiency
Don't mess with my cadence
I pedal to the beat
How you think I made this?
It's all about performance.
That's the name of the game.
I pump up my tires and I oil my chain.
Performance
That's the name of the game.
And I always ride through the pain.
All these hipsters think their so tricky
With their messenger bags
On their back on their fixies
Pedaling quickly down the hills
Don't blow out your knees and take a spill
An anodized chain?
Cards in your spokes?
How can you ride?
Your pants are a joke.
You can barely get your hands on your handlebars.
Looking kinda shaky when you're weaving through cars
You think it makes you look like a courier
It really just makes you look girly
Is that a steel frame from 1988?
You might as well use it as an ankle weight
It's all about performance.
That's the name of the game.
I pump up my tires and I oil my chain.
Performance
That's the name of the game.
Carbon fork
Carbon stem
And aluminum frame
Ugh, God I gotta get a carbon frame
24/7 I'm in nothing but spandex
Cutting through the wind cause I'm aerodynamic
And when I slam it
It makes you look inert
Now I'm eating up hills
Like my name is Eddie Merckx
With my endurance
You don't stand a chance
My cardiovascular fitness level's right up there with Lance
Doing what I can
To shave off the seconds
I shave my legs
My girl she doesn't get it
I embrocate my skin
But I'm never doping
Electrolyte smoothies ever morning for my focus
I smoke my opponents anytime, anywhere
You try to hang with me
I'll have you pedaling squares
It's all about performance.
That's the name of the game.
I pump up my tires and I oil my chain.
Performance
That's the name of the game
And I never feel the pain
It's all about performance.
That's the name of the game.
I pump up my tires and I oil my chain.
Performance
That's the name of the game
And I always ride through the pain